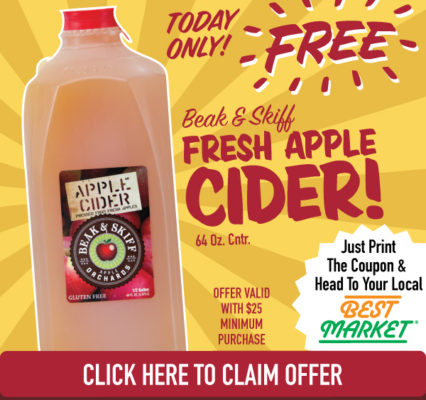 Grown in the hills and valleys of LaFayette, New York for over 100 years, Beak & Skiff apples have become known for their consistent quality and superior taste. It all comes down to the individual attention given to each tree and tried-and-true methods and recipes that make their cider so good!
If you care, help Harlem World Cares, celebrate, educate and inspire the next generation of Harlem Youth. Thank you. __________
Print the coupon from our site and get to a Best Market in Harlem to enjoy the unique taste of Beak & Skiff apple cider for free today only with this limted-time offer!
*Offer valid October 19th, 2017 ONLY for one 64 Oz. container of Beak & Skiff apple cider per household. Printed paper coupon MUST be present to claim offer – coupons shown on mobile devices can not be scanned.*
Perfect For Fall & FREE!