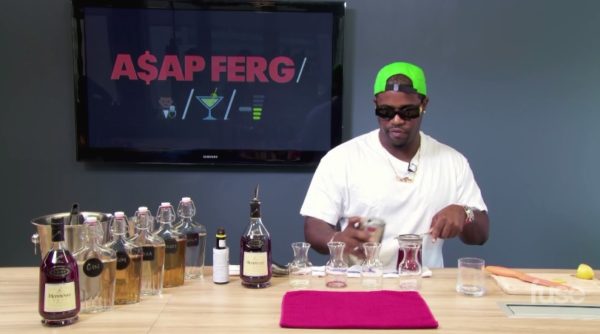 Fuse TV reports that A$AP Ferg made his "arrival" known by creating art with a community of legends and newcomers when he dropped follow-up project [easyazon_link identifier="B0015HLQAU" locale="US" tag="harlemworld-20″]Still Strivin[/easyazon_link]g on August 18, 2017.
A$AP Ferg's Home Collection Is What Every Trap Disciple NeedsA$AP Ferg welcomed in the month of June with an uproarious set at Governors Ball on Saturday June 3,…Jun 8 2017harlemworldmag.com
The 14-track mixtape features an ample amount of artists from Cam'ron, Busta Rhymes, Rick Ross to Dave East and A$AP Mob's own Playboi Carti.
The Harlem native stopped by Fuse to introduce his cool, refreshing cocktail "The Hennessy Uptown," give a demonstration of how to achieve the sweet-but-spicy zang, and the reason behind all the collaborations on his latest release [easyazon_link identifier="B074GR3X6N" locale="US" tag="harlemworld-20″]Still Striving[/easyazon_link].
A$AP Ferg's New AGOLDE Denim Capsule Is Inspired By Harlem And MoreThe 28-year-old rapper A$AP Ferg is perhaps best known as a member of the notorious New York rap gro…Jul 19 2017harlemworldmag.com
After elaborating on all the collaborations and what it was like having an open-door studio policy with his recent release, Ferg touched on getting personal on the last track "Tango," giving his fans his current thoughts and feeling depressed. "I was depressed for a long time, I wasn't sure if I wanted to continue making music," says the 28-year-old. "You know 'is it even worth it, is people respecting art anymore?'"