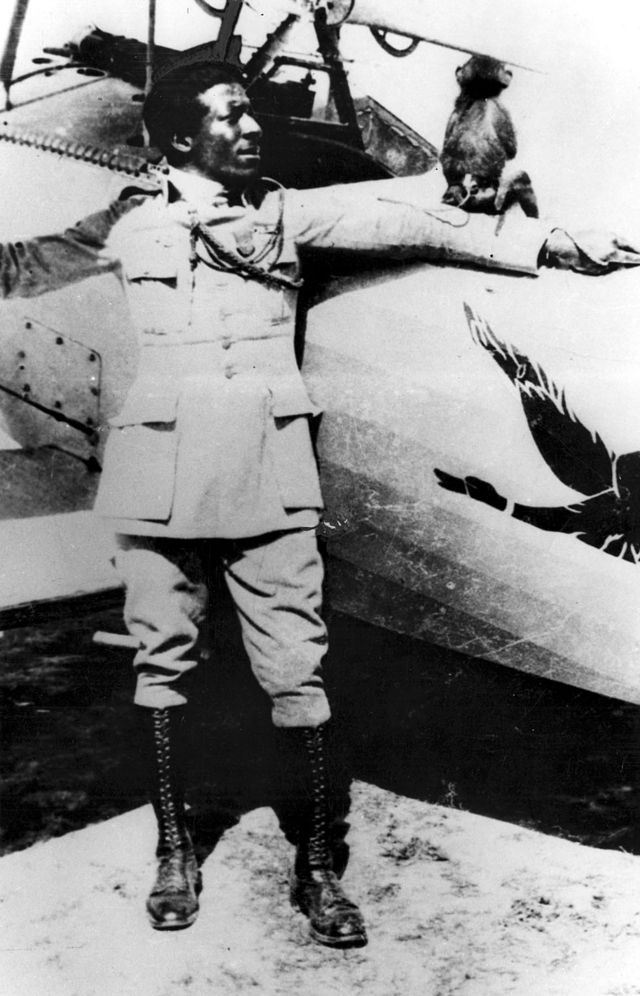 Eugene Jacques Bullard (1894-1961) was the first African American to fly a fighter plane and was known as the "black swallow of death" for his courage during missions. He led a colorful life, much of it in Europe.
Eugene Jacques Bullard was born in Columbus, Georgia on October 9, 1894. After witnessing lynch mobs and other racial violence, Bullard left his hometown at the age of eight destined for France and its less racially-divisive society. Along the way he joined a troupe of gypsies who traveled through the southern United States.
If you care, help Harlem World Cares, celebrate, educate and inspire the next generation of Harlem Youth. Thank you. __________
In 1912 as a teen, Bullard stowed away on a train to Virginia and then on board a ship bound for Europe. He worked odd jobs in Scotland and England, some in the underground world of gambling, before eventually arriving in Paris, France, his long-time destination. In 1914 at the age of 20, Bullard enlisted in the French Foreign Legionbut was pulled out of action after being injured. On leave, he bragged that he could fly a fighter plane and on a bet wrangled a spot in a French flight training school.Bullard learned to fly, joined the then small French air corps and quickly became known for flying into dangerous situations often with a pet monkey (pictured in the above photo). When the United States formally entered World War I, many American expatriates applied for transfers to U.S. forces. Despite his three years of flight experience, Bullard's application was denied, and the United States military further pressured France to permanently ground Bullard in order to uphold the U.S. policy against African American pilots. France succumbed, and Bullard was taken off of aviation duty.
Following his discharge, Bullard returned to Paris. He worked in nightclubs and eventually owned his own. He married the daughter of a French countess, but the marriage ended in divorce, with Bullard gaining custody of their two daughters. His nightclub work gained him many famous friends, including Josephine Baker,
Louis Armstrong
, Langston Hughes and French flying ace Charles Nungesser. When World War II began in September 1939, Bullard, who spoke German, agreed to a request to spy on German agents thought to frequent his nightclub.
With the German invasion of France in May 1940, Bullard took his daughters and fled from Paris. He joined a group of French soldiers defending Orléans and suffered a spinal wound. He was able to flee to neutral Spain, and in July 1940 he returned to the United States.
Bullard spent some time in a New York hospital in and never fully recovered from his wound. Moreover, he found the fame he enjoyed in France had not followed him to the United States. He worked as a perfume salesman, a security guard, and as an interpreter for Louis Armstrong, but his back injury severely restricted him. He attempted to regain his nightclub in Paris, but his property had been destroyed during the war. He received a financial settlement from the French government, which he used to buy an apartment in New York's Harlem.
After the war, Bullard discovered jazz, learning to play drums in Paris nightclubs and eventually owning two nightclubs of his own. After Germany invaded France in 1940, Bullard began working as a spy for the French Resistance and then escaped to the United States with his daughters. In the 1950s, Bullard was a relative stranger in his own homeland. His daughters had married, and he lived alone in his apartment in Harlem which was decorated with pictures of his famous friends and a framed case containing his fifteen French war medals. His final job was as an elevator operator at the Rockefeller Center, where his fame as the "Black Swallow of Death" was unknown. In 1954, Bullard was interviewed for the show.
Eugene Jacques Bullard died in Harlem in 1961. In 1994, he was honored posthumously by the Smithsonian Institution's National Air and Space Museum.