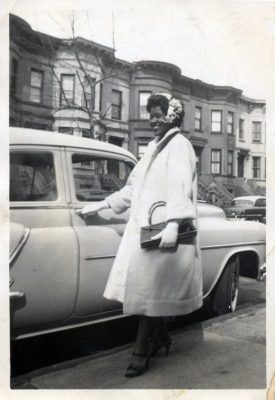 Harlem women have always looked fabulous, with the help of Harlem designers like Anne Cole Lowe to Dapper Dan the young lady above headed to Sunday church service is a great example of Harlem style during the 1950's.
If you care, help Harlem World Cares, celebrate, educate and inspire the next generation of Harlem Youth. Thank you. __________
The young lady smiles on this sunny day as she stands in a pose before opening the door of the matching white car in her in a soft white coat and gloves, her flower head-dress wrap and wonderfully  accented with black shoes and a funky black purse in her hand.
Via Pinterest