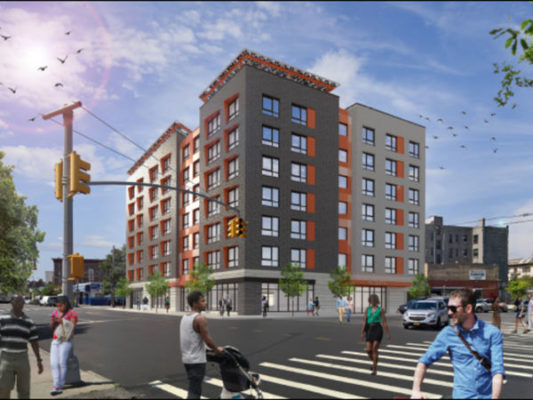 The city[easyazon_link identifier="0117529443″ locale="US" tag="harlemworld-20″]Department of Housing Preservation and Development[/easyazon_link] is teaming up with private developers to construct more than 400 below-market apartments and homes on vacant city-owned lots in Brooklyn, the Bronx and Harlem, the city announced Monday.
The new apartments and houses will be built on what the city identified as seven "clusters" of vacant and underutilized city-owned land. The clusters are located in the Brownsville, Bedford-Stuyvesant, East New York, Fordham, Melrose and the [easyazon_link identifier="B06XP5K2P6″ locale="US" tag="harlemworld-20″]Central Harlem[/easyazon_link] neighborhoods, city officials announced.
"We are putting City land to use as we continue to focus on affordability and equal access for all New Yorkers," Mayor Bill de Blasio said in a statement. "These 400 homes, for homeowners and tenants alike, will bring stability to working families, these communities and the city as a whole."
Support Harlem World today. Thank you. __________
The developments will be funded by two Department of Housing Preservation and Development programs: The New Infill Homeownership Opportunities Program and the Neighborhood Construction Program. These programs were designed to work with smaller developers and non-profits, city officials announced.
Six of the seven development teams announced Monday are non profits and two are minority- or woman-owned businesses, HPD Commissioner Maria Torres-Springer said in a statement.
"One of the key drivers of the housing plan is the creative use of public land, which is in increasingly short supply," Torres-Springer said in a statement. "Through new programs, HPD is looking to unlock the development of its remaining small sites scattered across the city's neighborhoods."
Here's how the developments in Harlem will break down by each "cluster," according to city data:
Central Harlem 1 & 2 Cluster: 11 vacant lots will be developed into four rental buildings and seven co-operative buildings with a combined total of 108 affordable housing units in Manhattan Community District 10. The development team will be led by Lemor Realty and Iris Development.
Click here to read about other developments around New York City.
Photo courtesy Department of Housing Preservation and Development
Related articles