"…My (site) spiked at five times my usual daily numbers. (I) had a note today from someone in Paris!" – A'Lelia Bundles
Harlem World Magazine, the #1 source in the world for all things Harlem since 2003. Harlem World has evolved into a fun, positive and inspiring brand that celebrates Harlem life that locals and visitors enjoy in Harlem. But Harlem is more than just a place, Harlem is a state of mind. A website that started to promote a great community that aspires to become an international brand. In fact, with over 2.5 million influential fans around the world annually.
Want deeper local impact with customized campaigns by locals? Our Harlem World Magazine, Inc., designs market research, creative strategy, storytelling, and events to tell your customized story for our readers.
8,000+ daily subscribers
100,000+ weekly readers
60% of readers are ages 24-45
$70,000 average household income
Connected: 95% of readers live or work in the urban core
Active: 85% visit local events and businesses monthly
Harlem World Magazine has taught hundreds of Harlem youth digital publishing industry skills through Harlem Youth Publishing Empowerment (H. Y. P. E.) its non-profit Harlem World Cares.
The Facts About Harlem World
— 5.6 million+ Annual Unique Visitors
— 350,000+ WordPress, Facebook, Instagram, Youtube, Twitter (monthly)
— 5,000 Constant Contact served
— 5,000+ Harlem World Radio weekly listeners (since September 2006)
— 140,000 minutes served through Harlem World Radio, including interviews with locals, electeds, and celebrities
— 10+ Event and media partners
— The Harlem World Network includes HarlemWorldMag.com, Harlem World Radio, Harlem World TV, Harlem World Website
and over 100 other local URLs planned ripe for future expansion in 2016.
Official Harlem World® Gear
— 30,000+ thousand served through Harlem World Gear
— 15+ Harlem World Gear products, and more
Harlem World Cares Charity
— Promote the importance of mentoring at risk teens with Harlem CARES
— Train interns with the Children's Harlem Zone
— Columbia University STEAM mentoring Harlem youth at Beyond The Bricks
— The Harlem AIDS Blanket with Teachers College at Columbia Universities IUME program mentoring Harlem youth through the arts.
Harlem World In The Media
"This is great … You are awesome.."
—HerGame2
"Great…."
—Columbia (SonyPictures)
"Influential…"
—Harlem Fashion Week
Best Harlem "Recommended websites…."
—NY Magazine
"Perfect! Its great…."
—Walker International Communications
"…wonderful… thrilling…"
—Simon and Schuster
"…great local journalism …" —Downtownmagazinenyc
Harlem World Licensing Opportunities
Harlem World, our iconic black and white Harlem World logo, is a registered trademark of The Harlem World Company, Inc. If you would like to license the Harlem World logo or brand for a product or service, please contact us.
More About Harlem World Magazine
Harlem World Magazine's editorial approach builds on a 35 year tradition of journalism started by his deceased my uncle Charles Tisdale (right) at the Jackson Advocate. The Jackson Advocate is a strident voice for Mississippians who were poorly represented.
Charlies Tisdale, was born in rural Athens, Alabama on November 7, 1926. one of a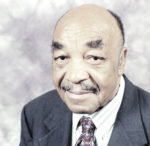 family of seventeen children. His father, worked the land until the farm was lost in the Great Depression of the 1930s; thereafter he supported his family through day jobs and yard work. Mr. Tisdale remembers him as a poet and songwriter, an intellectual who read three newspapers every day. Mr. Tisdale's mother (my grandmother) Winnie was "a stern and courageous woman", who insisted that her children stand up for their rights. She was a fierce defender of the family who "would shoot in a minute". In her last letter to Uncle Charlie, she said, "Please send me a new pistol as mine is rusty". From the time he was 15, he worked the migrant circuit of tobacco farms, especially in Connecticut. However, at 18 he was able to enter college in Memphis, Tennessee, and began working at the Memphis World newspaper.
Mr. Tisdale made a commitment to ensure the newspaper survived Klu Klux Klan bombings, and attacks from media outlets. The paper called it like it saw it, and it was challenging, and chastising.
"… I carry a lot of Mr. Tisdale with me … The biggest gift he  gave me was understanding what it meant to be committed to something." – Ben Jealous, NAACP president
The paper encouraged discourse, critical debate, and understood the importance of having a voice for community ideas in his article "Tisdale's Topics."
Any questions contact or here or call 646.216.8698