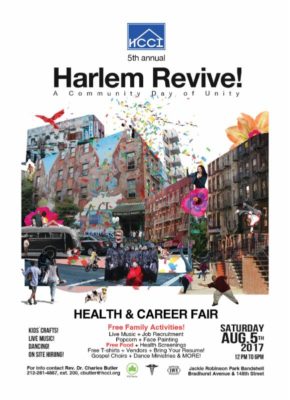 Don't Miss Harlem Revive!
Saturday, August 5th, 2017, at Jackie Robinson Park!
If you care, help Harlem World Cares, celebrate, educate and inspire the next generation of Harlem Youth. Thank you. __________
Harlem Congregations for Community Improvement, Inc. (HCCI), a community development agency celebrating 30 years of service, presents "Harlem Revive: A Community Day of Unity". This Health and Career Fair will be a social, emotional, spiritual and financial health revival for Harlem community residents. The NY Knicks game truck will visit courtesy of Petro Heat and the day will include vendors, free food and fun activities! Each hour will be hosted by Young Life Ministries!
Harlem Congregations for Community Improvement, 2854 Frederick Douglass Blvd, New York, NY 10039, 212-281-4887, www.hcci.org